Easy Raw Vegan Apple Cups
What you need: 
Crust:
1 cup raw unsalted  nuts (almonds, walnuts work best)
1/2 teaspoon sea salt (omit if nuts/seeds are salted)
1 teaspoon water
Filling:
1 green apple, cored
1 pitted date
1/4 teaspoon cinnamon
1/8 teaspoon nutmeg
1/8 teaspoon ginger
What you do: 
1. For crust, in food processor, blend seeds/nuts, water and salt. Divide into eight portions and set aside. For filling, process apple, date, and spices.
2. Take a rounded coffee cup and press 1 portion crumbled crust mixture in the bottom.
3. Spoon in approximately 2 tablespoons apple filling over crust. Top with another portion of crust. Cover the apple filling with the crust mixture and press down slightly.
4. Continue process with the remaining 3 coffee cups, so each cup has a crust bottom, apple filling, and a crust top.
Spoon in and enjoy!
Microwave Blueberry Banana Oat Cakes
Ingredients:
1 ripe medium or large banana, mashed
1/2 c dry oats (or a little more if you have an especially big banana)
1/4 c brown sugar (reduce as desired, or omit entirely, or replace with stevia)
1 Tsp Cinnamon (more if you love it)
1/4 c blueberries (frozen or fresh)
Optional: Dash of Vanilla Extract, 1 Tbsp of Chia Seeds, 1 Tbsp of Coconut Flakes, 2 Tbsp of Cocoa Powder for a chocolate banana cake
Directions:
Mash the banana
Add everything else except the blueberries and stir to combine.
Then, gently fold in the blueberries.
Spray a clean bowl with cooking spray and put the batter in it
Microwave for 3.5 to 4.5 minutes.  You will know when it's done because it will not be "juicy" looking anymore and it may have some "holes" on the surface.
After mircowaving, allow to rest for a couple minutes.  Eat in that bowl or easily invert/remove from bowl and re-plate it, or take as a to-go snack.
Top with more blueberries, syrup, jelly, agave, nut butter, raisins, nuts, seeds, dried fruit, or nothing.
Source <—-
Averie's 5 Minute 'Raw' Vegan Oatmeal Raisin Cookies (Gluten, Soy, & Dairy Free)


1/2 c dry oats (most oats are not technically raw but source true raw oats if your heart desires)
1/4 c pitted medjool dates (about 4-6 juicy, wet dates.  TWSS)
1/4 c raisins
1 Tsp Cinnamon
Optional: Dash of vanilla extract (I say, yes!)
Yields: 12 small cookies, feel free to double the recipe
Directions:
Blend Oats a bit, then add the dates, blend.
Then add raisins, cinnamon, vanilla extract.
Then when blended well, take dough out and form into cookie shape.
Done! 
Source here <——-
Mini "Meat"loaf's
356g or 2 cups cannellini beans, canned and washed
120g or 1 cup oat bran
1/4 cup ground flaxseed
145g or 4 stalks celery
35g or 3/4 medium carrot
50g or 1/3 cup onion
2 tbsp applesauce, unsweetened
1 tbsp worcestershire sauce
1 tbsp parsley, dried
1 tbsp minced garlic
1/4 tsp ground mustard
1/4 tsp salt
1/4 tsp black pepper
Topping
1/4 cup tomato sauce, plain, no salt added
Dash of parsley, salt and black pepper
Directions
Add celery, carrots and onion in a Ninja Master or food processor and chop well. Add all ingredients into a bowl and smash well. Hands for mashing is optional. ;) Spray muffin pan and place 2 tbsp into each cup. Preheat oven to 400F and bake meatloaf for 30 minutes. When there is 10 minutes left, add topping mixture to each mini loaf and place back into the oven to finish baking. Let cool down and serve!
Indian Beans and Potatoes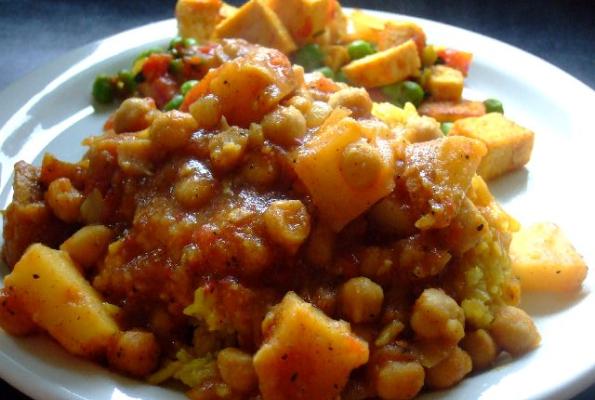 What you need: 
2 tablespoons vegetable oil
1 medium yellow or sweet onion, chopped
1 or 2 tomatoes
2 (15 ounce) cans garbanzo beans
1 tablespoon garlic powder
1 1/2 teaspoons salt
1/8 teaspoon ground black pepper
1 potato, peeled and chopped
1/4 teaspoon red pepper, optional
1/2 teaspoon cumin
1 teaspoon chili powder, optional
What you do: 
1. Fry the onion in oil until slightly brown. Add tomatoes, garbanzo beans (and two cans full of water), garlic powder, salt, and black pepper to pot on medium high heat.
2. Let cook for 20 minutes. Add potato. Let cook for another 20-25 minutes.
3. Add red pepper, cumin, and chili powder, if using. Reduce heat to medium low and cook for another 5-7 minutes.
Ideally, the final product should be a very thick mixture and not runny at all. If it is, drain some of the water. Serve with rice and vegan pita bread or tortilla.
13 Refreshing Summer Smoothies (All Vegan but 3)
1. Erica's Morning Zest: Grapefruit, Ginger, Carrot and Pear
2. Jenny's California Dreamin: Mango, Banana, Avocado, Spinach and Vanilla-flavored Almond Milk
3. Marlene's Mega Meal: Strawberries, Blueberrries, Banana, Almond Butter, Maca, Whey Protein Powder and Avocado, blended with soy milk. 
4. Nina's Green Lemonade: Kale, Spinach, Celery, Cucumber, Lemon, Apple and for an extra zing, add Ginger
5. Michelle's Green Goddess: Kale, Spinach, Apple and Pineapple
6. Marianna's Lunch in a Cup: Beets, Carrots, Celery, Fennel, Cucumber, Orange, Pineapple, Green Apple and Kiwi
7. Zaina's Protien & Potassium Packer:
Avocado
, Banana, Vanilla-flavored Hemp Milk, Spirulina, Coconut Water, Fresh Orange Juice, Pinch of Cinnamon (or cayenne pepper for the spice lovers)
8. Alejandra's Simple & Sweet: Coconut water, Mango, Whey Protein
9. Melissa's Berry Delicious: Blueberries, Strawberries and Spinach
10. Melissa's Tropical Madness: Mango, Pineapple, 100% Pure Orange Juice and Kale
11. Heather's On-the-Go : Banana, Blueberries, Spinach, and Almond Butter
12. Kaitlyn's Fruity Fiesta: 6 cups Concord grapes, 2 Golden delicious apple, 2 pieces Ginger and 1/2 cup Blackberries
13. Mandy's Morning Mantra: Strawberries, Pineapple bits, Orange Juice, Almond Butter, Chia Seeds, Almond Milk, Vanilla-flavored Whey Protein Powder and drizzle Honey
Remember, when recipes call for juice, try to always use 100 percent pure, fresh-squeezed juices to ensure it is not from concentrate and there are no added preservatives or unnecessary sugars, slowing down your digestion.
Cranberry-Pecan Oatmeal Cookies
Ingredients You Will Need:
1 cup of vegan margarine, softened
1 ½ cups turbinado sugar
2 tbsp flax meal
½ cup water
1 cup all purpose flour
½ cup whole wheat flour
1 tsp baking soda
2 tsp cinnamon
½ tsp nutmeg
3 cups rolled oats
¾ cup dried cranberries
½ cup pecans, chopped
Cream the margarine and sugar until fluffy, and then add the flax and water and mix well. Sift together the flours, baking soda and spices, and add to the margarine mixture. Stir in the oats. The dough will become quite stiff at this point. Fold in the cranberries and pecans until combined.
Drop the dough by rounded spoonfuls onto ungreased cookie sheets. Bake for about 10 minutes, or until they start to brown. Cool for one minute, and then remove to wire racks and cool completely.
Peach Vanilla Smoothie
1 large or 1 1/2 medium ripe peaches, white or yellow, pitted (about 6 ounces)
1/3 cup granola
2/3 cup almond milk
1/8 teaspoon almond extract
1/2 to 3/4 teaspoon vanilla extract (to taste)
2 teaspoons rose geranium syrup
A few drops of fresh lemon juice (to taste)
3 ice cubes
1. Place all of the ingredients in a blender. Blend until frothy, about one minute.
holy mother of sweet vegan life, get in my mouth